The Rifle Butts Wind Farm is located some 20km south west of Horsham in Victoria. It is planned with a capacity of up to 13 wind turbines producing up to 40MW of renewable energy.
Position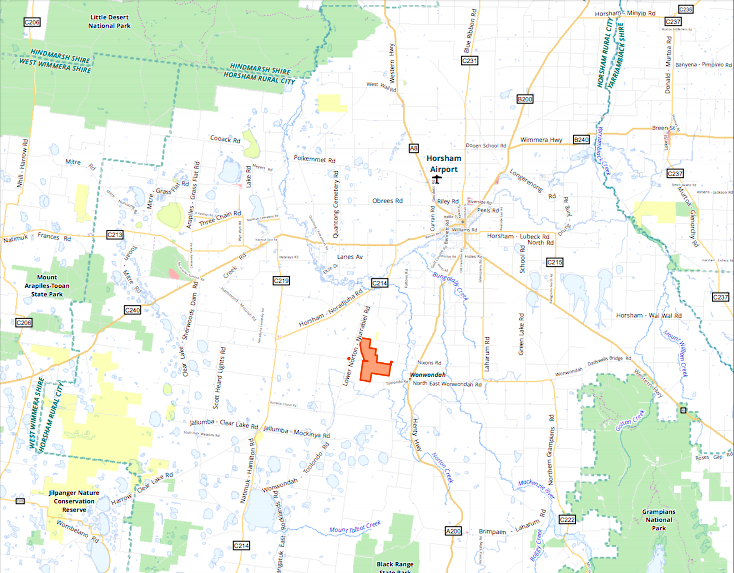 The wind farm is located approximated 4km west of Wonwondah North, VIC 3401. It is situated to the north of Rifle Butts Road, east of Sandy Creek and to the south of Rifle Butts Road, west of OConnors Lane.
Size
Estimated thirteen (13) wind turbines with a capacity of 3MW each =  40MW total capacity.
Towers expected to be up to 150m in height, total height being up to 235m (to the top of the blade).
Connection
The Wind Farm will connect into the 66kV distribution line at the corner of Wonwondah-Toolondo Road and Motts Road.  Various studies and models have been completed in discussion with Powercor, working toward a Grid Connection Offer.
Studies
NewEn has been conducting wind measurements via a LIDAR unit since January 2017. After the initial results were successful a met mast of 85m in height was installed in September 2017 for more accurate wind measurement.
Studies have been undertaken:
cultural heritage;
flora and fauna;
water table;
Geomorphic;
CASA, aviation;
visual aspect;
EMI, electro magnetic interference
noise emission; and
transport logistics.
Public Community Meeting
A public meeting was held on 9th November 2016 to inform the local community of the proposed wind farm.
A further public meeting was held on 16th January 2018 at the local Wonwondah Hall to inform the local community of the development application process.
Timing
A Planning Permit Application was lodged on 22 December 2017 with DELWP.
On 31 May 2018 the Minister for Planning approved the wind farm and issued a Notice of Decision to Grant a Permit.  The Permit has not been issued at this stage because of one objection against the development of the wind farm.
A Grid Connection Offer from Powercor is expected by August 2018.
Construction of the wind farm is expected to start by early 2019.
OTHER
A locality map shows houses within 5km of the wind farm site.  The map can be viewed by clicking here.